TREE SERVICE IN BAY VILLAGE, OHIO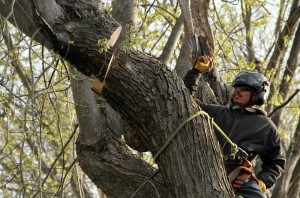 Monster Tree Service has been providing maintenance and protection services throughout the greater Cleveland, Ohio for several years. Whether your needs are residential or commercial, our expert arborists can assess the health of your trees, make sure you fully understand our findings and arrange for solutions to any problems. Our comprehensive tree services in Bay Village, Ohio, include tree trimming, tree, shrub and stump removals, lot clearing, bucket and crane services, planting, and cabling/bracing.
Tree Trimming
If the trees on your company's property in Bay Village, Ohio, start to resemble an unruly forest more than a beautiful and pristine landscaping choice, then it's time to call Monster Tree Service. Our team of highly-qualified professionals will come out and tame the trees and shrubbery on your property to ensure that your space is not only visually enhanced, but safe for your employees, customers and visitors. Your company's exterior esthetics provide the first impression you will leave on potential clientele, make sure it's a good one by letting us provide our superior tree services.
Our staff can also ensure that the trees on your property pose as little threat to everyone's safety as possible.
Our tree trimming services in Bay Village, Ohio, will make sure that diseased and damaged branches are removed before they become hazardous. In addition, we can provide emergency tree services to keep your property maintained and safe after a major storm has passed through and created a mess.
For those homeowners and property managers whose needs are on a slightly smaller scale, no job in Bay Village, Ohio, is too big or little for Monster Tree Service. You can count on our experts to provide any tree services you may need while leaving your property looking better than it did when they arrived. From tree trimming to stump removal, and everything in between, our staff will provide the fast, reliable and clean service you deserve and the yard of your dreams.
Don't wait until a dangling branch forces you to get tree trimming help, call us now and let us perform a tree assessment. We'll make sure your Bay Village, Ohio, property is safe and beautiful before an emergency arises.