Tree Service in Limerick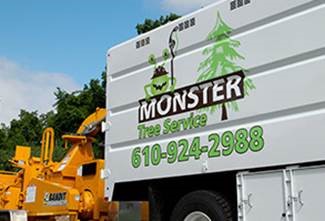 At Monster Tree Service in Limerick, PA, we have competitive prices, exceptional customer service, and extremely knowledgeable staff. Throughout the Lehigh Valley, we're known for the comprehensive services we offer to an array of properties.
Around Limerick and statewide, proper tree services are imperative to maintaining a safe and attractive property. We work our hardest to not only increase the curb appeal of properties for all of our clients, but to also work safely, using our expertise and experience as guidance.
Friendly Certified Arborists in and Around Limerick, PA
Monster Tree Service guarantees an exceptional customer service experience for all of our clientele throughout Limerick, PA. Our certified arborists will carefully identify problems and then formulate solutions to resolve issues quickly.
The Occupational Safety and Health Administration (OSHA) provides officially certifies that our climbing techniques are federally-recognized as not only safe, but also as the best available on the market.
Tree Removal is Always Monster Tree Service's Last Resort
We never want to cut down and pull up a tree, but sometimes it is necessary. Our certified arborists dedicate themselves to accuracy, and will point out any tree on a property that poses a threat to its surrounding. However, sometimes these trees have a lot of time and money invested in them and have developed sentimental value. For this reason, we never opt for tree removal first.
We have the most advanced trimming and pruning techniques on the market. We understand the health benefits of properly trimming and pruning trees back to optimal levels.
Proper tree service will provide extra strength during stormy, icy, windy and snowy seasons. Proper routine trimming and pruning also help to bring out the true natural beauty of a tree during the colorful spring and fall months.
Our certified arborists carefully identify contaminated sections of a tree, locating infestations from insects and animals, as well as areas containing disease, fungal infection or rotting. After we trim back and remove this dead and contaminated wood, we employ extensive cabling and bracing to reinforce a tree's structural integrity, allowing it to heal back to its former glory.
For trees growing around areas dense with property and valuable landscaping, we perform crane-assisted tree removal to get the tree out of their safely and quickly. After we carefully remove the stump and the underlying root systems, we grind it down and fill the empty spot with dirt and mulch, making it ideal for another planting or landscaping project!
If a tree needs removal, we promise to do it quickly and with minimal damage to the surroundings.