Tree Service in Pottstown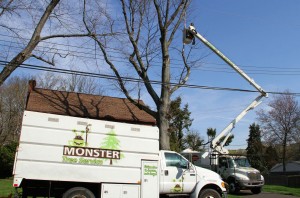 Our tree services set the highest standard around Pottstown, PA. We are also recognized for providing some of the most knowledgeable, quick and reliable tree service personnel in Central PA.
Our certified arborists always use climbing techniques verified by the Occupational Safety and Health Administration (OSHA). We also make sure to educate them fully in all of the indigenous and commonly planted species of trees, hedges and shrubs around Pottstown, PA.
Pottstown, PA's Preferred Tree Removal
Using a wide variety of tools, equipment, and techniques, we command a fleet of fully stocked bucket trucks with the latest and greatest rigging technology. If we are removing a tree in a risky environment, we use contemporary crane-assisted tree removal techniques. Around Pottstown, there are a lot of trees, and some of them are extremely tall. Therefore, it's paramount to remove them safely and carefully.
After a successful tree removal, the stump and roots are all that remains. Using technology combined with experience, we remove roots while carefully discerning where utilities like cable and power lie underground.
Following stump and root extraction, we grind down the stump and add the resulting mulch and dirt to the area gouged up by the tree removal. Through this process, our customer can replant the area as soon as they desire. Our stump grinder can fit through any gate up to 36'' wide!
Routine and Emergency Tree Service
It's important to keep a property's trees pruned and trimmed properly. Effective pruning and trimming will enhance a tree's physical beauty, as well as its' structural integrity during severe weather events.
Properly caring for a tree will also protect surrounding people and property from the dangers of falling limbs or a collapsing trunk. Our certified arborists can pick out spots on a tree that are diseased or that have been infested by insects and other critters.
If disaster strikes and a tree is directly threatening one of our customers—we'll make sure to be there anytime—24/7.