Tree Service in Carrollton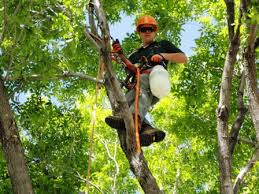 Every property has different needs when it comes to proper care for their trees in Carrollton, TX. With a goal of providing the highest quality of customer service, we make sure your trees continue to benefit your landscape. We can handle any sized project and offer the best value from routine tree trimming to stump and tree removal with our innovative and advanced line of equipment.
We strive to continuously provide all of our clients in the Carrollton, TX, area with the best tree service to maintain the aesthetic appeal of the property. Whether a residential or commercial landscape, our tree service and tree pruning encourages healthy flowering and control its growth. Make sure your trees remain an appealing feature of your property and continue to benefit and protect your investment. Our tree service in the Lewisville, TX, area will exceed all of your expectation with prompt and professional service.
Whether your property requires cabling, emergency services, stump removal, thinning or tree pruning in Carrollton, TX, you can count on our crew of certified and experienced arborists to provide you with the most comprehensive tree service to enhance the beauty of your property. Let us help your trees develop a longer lifespan to increase the overall value of your property with unmatched tree service in Flower Mound, TX.
Tree Removal
Monster Tree Service performs their quality and safe tree removal with industry experts. We are well equipped to handle all of your requirements and provide efficient solutions to protect the health of your Carrollton, TX, property.
Our equipment includes log trucks, bucket trucks, rigging gear, grinders, cranes, and more. We make sure to utilize the proper equipment for each project we complete to ensure the maximum safety and best care during the tree removal process. Through our extensive tree service and tree removal in Grapevine, TX, you will see the appeal of your property enhanced.
Even if you take great care of your landscape through regular tree service in Coppell, TX, there comes a time when the plants on your property will experience damage from storms, normal aging, or diseases. During the analysis, we can find that your trees are decaying or there is an infestation of insects in your trees, and we'll provide efficient tree removal.
Whether you require tree trimming or complete tree removal in Irving, TX, we have the most affordable pricing models in the area. Utilize the expertise of our certified and trained crew, and get your free estimate by contacting us as soon as possible.