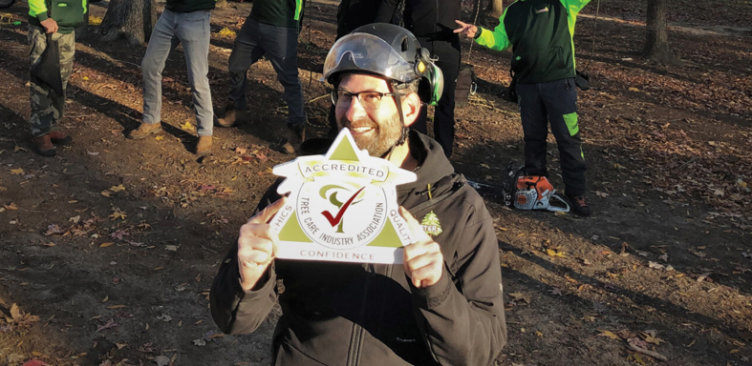 In the world of franchising and entrepreneurship, Chris Brown stands as a shining example of strategic planning, dedication, and the unwavering pursuit of excellence. As the owner of Monster Tree Service of North Charlotte Metro, Chris has carved a niche for himself in the tree service industry.
He has also achieved a significant milestone by becoming Tree Care Industry Association accredited in a relatively short period. Let's discover Chris Brown's journey, his strategic approach, and the lessons he's learned along the way.
A Solid Foundation from the Start
Chris Brown's decision to seek TCIA accreditation for his company, Monster Tree Service, demonstrates his foresight and commitment to building a strong professional foundation. Recognizing the importance of setting the right course early on, Chris aimed to instill a culture of excellence and best practices from the outset. As he puts it, "It's easier to steer a rowboat than a cargo ship," highlighting the significance of establishing a robust foundation while the company is still in its growth phase.
Chris's impressive business acumen is rooted in his 15-year tenure as an executive at Lowe's Home Improvement's corporate offices. During his time there, he honed his strategic planning skills, overseeing multi-billion-dollar business units. When the opportunity arose for him to embark on his entrepreneurial journey, Chris meticulously researched small-business opportunities and found Monster Tree Service to be the perfect fit. He founded his operations in August 2019, guided by a deep appreciation for the franchise's business model and how it aligned with his strengths and personality.
Flexibility within a Franchise
One of the key advantages Chris found in Monster Tree Service's franchise model was the flexibility it offered while upholding brand standards. This flexibility allowed him and his team to pursue their goal of becoming one of the first Monster locations to achieve accreditation, setting a high bar for their business operations.
As Chris says, "I went into this not knowing the specifics of tree care, and I certainly wasn't naïve enough to think it would be easy. It's a hell of a hard business. The first year and a half was really challenging, to be sure. But we've learned from our mistakes and focused on creating a positive people culture, and now it no longer feels like we're on a razor's edge, like it did at first."
The Value of Accreditation
One of the most challenging aspects of the accreditation process, according to Chris, was revising the business plan. While he had a pre-existing plan that met the accreditation checklist's requirements, it had become outdated. Collaborating with his team to chart the company's future and documenting these plans on paper proved time-consuming but immensely valuable.
Chris highlighted the transformative power of small changes. Although no single aspect of the accreditation checklist was overly demanding, the cumulative effect of these changes was palpable. 
Throughout the accreditation journey, Chris and his team ensured that they did not overwhelm their crew with too many changes at once. They sequenced the process, gradually implementing improvements such as certifications, electronic reports, and job briefings, fostering a steady transformation of their standards and processes.
Employees noticed the positive shifts and the overall improvement in the company's professionalism. Chris explains, "We don't know exactly why, but it just feels different, and it's all good."
Chris Brown's entrepreneurial journey with Monster Tree Service exemplifies the power of strategic planning, teamwork, and an unwavering commitment to excellence. His dedication to building a strong professional foundation early on and pursuing accreditation is a testament to his commitment to fostering a culture of excellence within his organization. 
As Chris and his team continue to steer their entrepreneurial "rowboat" toward success, they serve as an inspiring example for aspiring entrepreneurs and established businesses alike.
Start your own journey, by clicking here.