About Monster Tree Service of Northeast Atlanta
Local Arborists Committed to Quality Tree Service in Duluth, Norcross, Berkeley Lake and surrounding areas
At Monster Tree Service of Northeast Atlanta, we're more than just a couple of guys in a pickup truck. We're a full-service tree care company in Alpharetta with certified arborists, experienced crews, and the latest and greatest in tree care technology and techniques to tackle the most difficult tree service projects.
We understand how important your trees are, so we strive to provide the best quality tree care services in Alpharetta and Northeast Atlanta. Whether you're looking for a professional diagnosis from one of our certified arborists, an efficient stump grinding for a dead tree, or simply need help removing some fallen limbs from your property, Monster Tree Service of Northeast Atlanta is the perfect choice for all your tree service needs!
Our Tree Services
Our team of experts is here to protect your home and keep the trees on your property healthy with our wide range of services, including:
Tree removal
Tree trimming
Tree pruning
Stump grinding
Emergency tree removal
Storm damage cleanup
No matter the size or type of tree on your property, don't hesitate to reach out to our team. today for a FREE estimate! We're prepared to inspect your property, diagnose any tree-related issues, and develop the best solution for your needs.
National Tree Care in Your Backyard
While we're locally owned and operated in Alpharetta, serving Northeast Atlanta and surrounding areas, our team is also backed by a national tree care brand with more than a decade of experience in the industry. We proudly serve areas throughout Northeast Atlanta, including Peachtree Corners, Duluth, Berkeley Lake, Norcross and beyond. This means you get the best of both worlds – local, reliable tree care and nationally-backed customer satisfaction and services.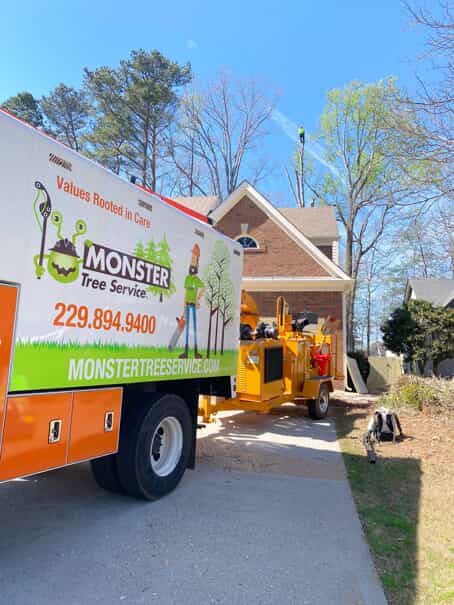 For quality tree care that you can trust, get in touch with us today to request a free estimate. Give us a call at (678) 735-5174 or contact us onlineto get started!