Crane-Assisted Tree Removal
No Job Is Too Big for the Tree Experts at Monster Tree Service!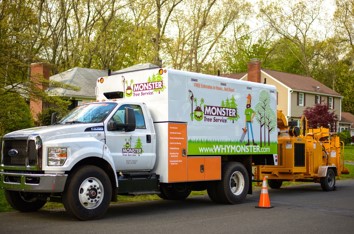 When you need large, hazardous trees removed from your property, not just any tree service will do. Some arborist service providers might offer to handle your large tree job but lack adequate experience with large jobs requiring technical rigging. Each independently owned Monster Tree location has years of experience safely tackling the most significant trees in the tightest spaces. Using a tree service that lacks experience in working with cranes can be a major liability, especially if the tree in question is near your home or a neighbor's home.
Monster Tree Service has the necessary experience and expertise to handle large, crane-assisted tree removal jobs. What does that mean for you? It means you can confidently turn to Monster Tree Service to tackle your issue with the most experience, and the highest level of professionalism.
Why Monster Tree Service for Arborist Services?
Monster Tree Service professional arborists are committed to two things: promoting healthy trees, and exceptional customer service. If your large tree needs removal for any reason, whether it's a disease, pest infestations, or you want to clear your lot, we dedicate ourselves to giving you the best customer service in the industry.
Clients turn to Monster Tree Service because we provide:
Timely arrivals
Upfront prices
Free estimates
Professional expertise
Fully insured workmanship
Courteous and friendly service
Because Monster Tree Service recognizes that trees sometimes fall without planning or warning, we also offer emergency service. Whenever and wherever you need us, a Monster Tree Service location is ready to show you why Monster Tree Service is America's premier choice for tree service, removal, and replacement.