Frisco Tree Removal & Trimming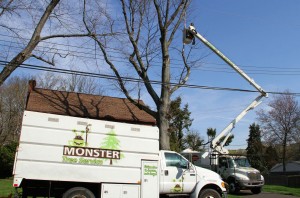 Monster Tree Service of North Dallas has the skill and equipment necessary to perform any type of tree service in Frisco, TX. Our team is seasoned professionals and certified arborists who are intensely dedicated to their trade and have your best interests in mind.
We focus on providing our clients with the best possible value in safe tree removal, quality tree thinning and pruning, advanced cabling and bracing, complete stump grinding, and expert tree diagnosis and fertilization.
Elite Tree Service in Frisco, TX
Frisco, TX, has repeatedly been recognized by the National Arbor Day Foundation as Tree City, USA, showing how much residents place an emphasis on maintaining the trees and wildlife in the area. Therefore, at Monster Tree Service, we know our Frisco customers expect the best and most professional removal, trimming and pruning tree services.
Keeping Your Property Clean & Beautiful
Our certified arborists go above and beyond to guarantee that they are making the right decisions to maintain the health and longevity of your tree through precise pruning and trimming techniques. When it comes to our Frisco tree removal services, we also practice the safest removal techniques, which include:
Surveying the area for power lines.
Examining whether there are broken or weak branches that need trimming.
Using proper safety gear and practices.
Using safe, efficient and modern equipment.
Trimming Services for Home & Business Owners
At Monster Tree Service of North Dallas, we know that trees have an enormous impact on the environment. Which is why, as they grow, providing them with the proper trimming and pruning is necessary. If you don't trim your tree when it needs it the most, what once was a vital component of your landscape may begin to devalue your home or property. If it becomes dangerous, unattractive or unhealthy, it may even become necessary to call us to receive an evaluation for tree removal.
Contact Our Frisco Professionals
When you want both fast and precise tree service done by experienced crews and arborists, we are the company to call. We are waiting to help.
Reach out to us any day of the week by filling out a contact form on our website, or give us a call to schedule an appointment.