Tree Removal in Oak Point, Tx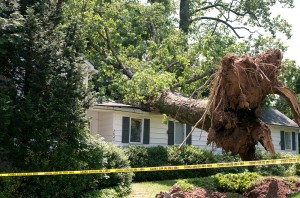 Monster Tree Service of North Dallas has worked extensively with our clients in Oak Point, TX, to maintain the health and value of their trees. We understand that when you have extensive amounts of native trees on your property, you want to find a reputable tree service you can trust. Our focus is on providing our clients with the best possible value in safe tree removal, quality tree trimming and pruning, advanced cabling and bracing, complete stump grinding, and expert tree diagnosis and fertilization.
Whether you have a sick Oak that is growing too slowly, an Elm that has grown too close to your home and needs pruning, a decayed Maple that needs to be carefully removed, or anything in between, you can count on our team of professionals to complete all work in a safe and efficient manner, with respect to your time and property.
Tree Trimming
Trees in the forest need little or no care to survive and thrive. Trees in our yards and around our homes, on the other hand, have to be maintained in a way that keeps them safe and healthy. These trees are subjected to regular stresses and diseases, and don't just replenish themselves once they become diseased.
Periodic tree trimming and tree pruning serves several purposes:
Develops strong and sound structure in smaller trees
Removes dangerous and unhealthy deadwood in mature trees
Reduces weight and wind resistance to protect against dangerous, unsightly and expensive storm damage
Provides home, street and walkway clearance when needed
Maintains the appearance and value of the trees in your landscape
Provides needed sunlight to your yard and landscape
Our Oak Point, TX, teams understand that improper trimming and pruning techniques can actually make your trees more costly to maintain, and more likely to need our tree removal services due to uncontrollable stress growth, weakened structure and internal decay. That is why we make sure each and every cut is made for a reason, and each and every cut is made with the proper tool in the right place for healing.
Our certified arborists will work with you to provide a complete estimate for all of your tree services, large or small, before any work begins.