Spongy Moth Infestation & Treatment
​The Spongy Moth, previously known as the Gypsy Moth, originally began as an exotic pest native to Europe and Asia. It wasn't until 1869 that the European spongy moth made its entrance into the United States, starting in the Northeast and migrating into the Southeast and Midwest regions. The Asian spongy moth made its debut in the United States in 1991 and is most prevalent in the Northeast region.
The larvae begin to hatch in Spring, about the time Oak buds start to open. It's imperative that you catch and eliminate the pest before the caterpillar stage or as soon as this is also the feeding stage, which is when it poses the greatest threat to plant life. The young caterpillars initially prey on adolescent foliage and needles. As it grows, it will move on to more established foliage and needles, causing rapid defoliation of trees and shrubs.
Spongy moths have a cyclical pattern that varies over the years. Some years the populations may be low and unnoticeable, however in other years, populations can be substantial and devastating to our trees. In the years when the population is vast, the pest has the potential to defoliate trees and shrubs entirely.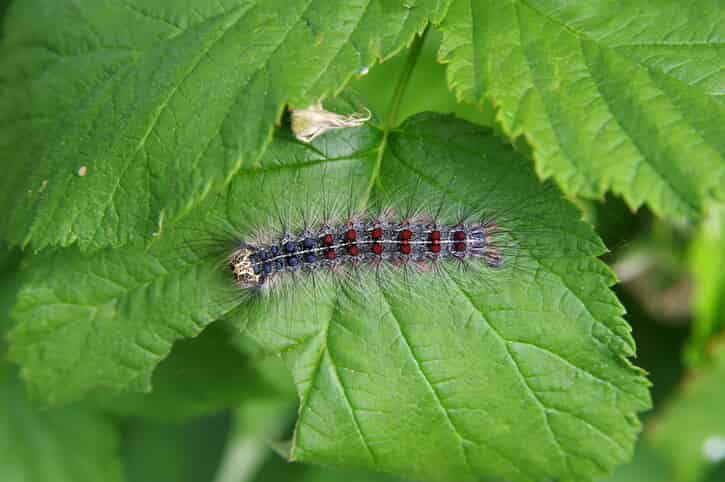 ​While trees have a reputation for being a resilient species capable of withstanding seasons of heavy feeding, after consecutive years of this defoliation, trees will begin to decline severely or die as a result. Evergreen trees affected by spongy moths will lose their needles, and these needles will not re-establish. Therefore, the damage is far more noticeable on evergreens.
In the moth stage of life, the female European species does not fly, making for a slower spread. However, the Asian spongy moths are infamous for being active, long-distance fliers allowing them to spread to new unaffected areas rapidly, causing further damage to healthy plants. The moth stage is also when the pest begins to mate a lay its egg masses, containing an astounding average of 600-700 eggs.
For treatment options give us a call at (888) 744-0155!
What types of trees and shrubs are affected by the spongy moth?
While the European spongy moth is known to feed on 300 host plants, it tends to favor oaks. The Asian spongy moth feeds on a significantly larger population of plant species, inclusive of botanical species. Some of its favorite host trees are oaks, willows, poplar, and some evergreens.
How can you spot an infestation?​
Keep an eye out for the egg masses. These fuzzy, light brown egg masses are a light brown can often be discovered on tree trunks, branches, firewood, and sheltered areas like lawn furniture.
Caterpillars are easily recognized by their five raised blue spots followed by six pairs of raised red spots along their back. Once in the caterpillar stage, the infestation is often relatively easy to spot as you will be able to see them on the tree or shrub and notice the defoliation of the leaves or needles.
How can you fight an infestation?
If you notice either of the signs of infestation mentioned above, you must take immediate action before the pest has a chance to impact your trees and shrubs severely. The first and most vital step to fighting an infestation is to call a local plant health care expert that is highly knowledgeable in eliminating the pest in a way that is not only effective but safe for the tree or shrub.
Monster Tree Service's Plant Health Care service offers extremely effective preventative pest treatments performed by expert arborists that come highly trained in the proper protocol to prevent or eliminate pests in a safe way for the tree or shrub. Our protective and preventative Spongy Moth treatments are effective for up to two years
Call Monster Tree Service today to book a free tree and shrub pest evaluation, and let us help you protect and maintain the health of your trees and shrubs!