Professional Spotted Lanternfly Treatment
The invasive spotted lanternfly is a major threat to grapevines, though they can be found feeding upon a variety of trees, landscaping, and crops in the northeastern, mid-Atlantic, and Midwestern US. Native to East Asia, this insect eats a wide variety of native and invasive trees and plants, damaging them and leaving them vulnerable to other pests and diseases.
Get rid of an invasive spotted lanternfly infestation with professional treatments from your local Monster Tree Service arborists.
Why Are Spotted Lanternflies Bad?
Though they spend their first three stages of life feeding on softer, herbaceous plants, the spotted lanternfly begins to feed on the woody material of trees in their fourth stage. During this fourth stage, the spotted lanternfly feeds on many species of shrubs and trees by piercing the foliage and bark to extract sap. The insect deposits a waste product called "honeydew" on the trees and other plants below them, which can promote the growth of sooty mold and attract other pests to your trees.
Though spotted lanternflies don't directly kill or even harm most plants, for the ones they feed upon, they can interrupt photosynthesis and cause some dieback. The spotted lanternfly has been classified as an invasive pest and quarantined in Pennsylvania and infestation pockets have been reported in 14 US states. Spotted lanternflies have been spotted in neighboring states and as far west as Iowa, though not all states have reported infestations.
The spotted lanternfly is considered a severe threat to the national grape and wine/vineyard industries.
Plants and Trees that Host the Spotted Lanternfly
The spotted lanternfly has a wide range of host plants, but it strongly prefers the invasive species Ailanthus altissima, a tree from China commonly known as the tree of heaven, which can grow 70 feet high when mature. Leaving these trees intact for spotted lanternflies to feed upon and freely reproduce may lead to a population explosion, which can spread to nearby trees and grape vines, causing crop yields to decline year over year.
Signs You Have a Spotted Lanternfly Infestation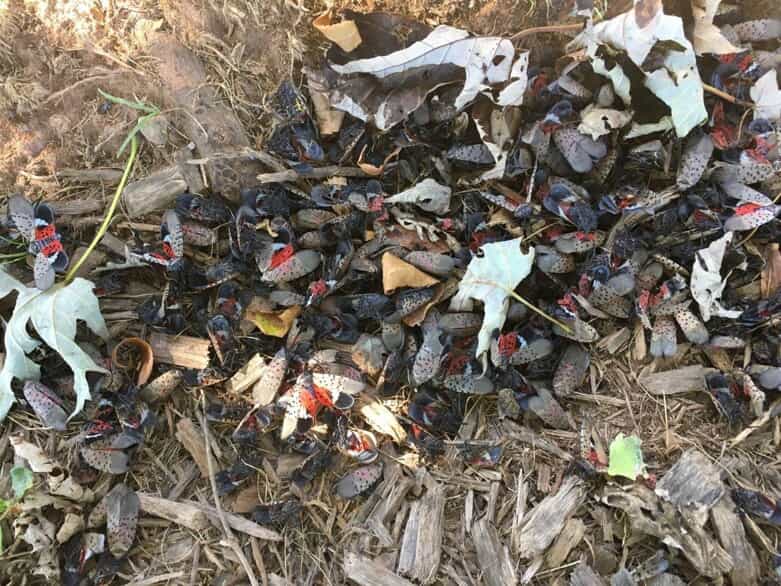 If you're in an area of concern, keep an eye out for these signs of spotted lanternfly damage:
Trees that have a fermented odor
Wounds that ooze or weep sap
Leaf wilting and curling
Leaf dieback
Clear "honeydew" secreted by the insects (which attracts other pests!)
Sooty black mold
Visible clusters of spotted lanternflies or their eggs
The adult spotted lanternfly is distinctive, about one inch long, with grayish wings, black spots, and a slight red tinge that has been described as a "glow." When it flies, its bright red hind wings are displayed, although it's a strong jumper and moves more often by jumping than flying.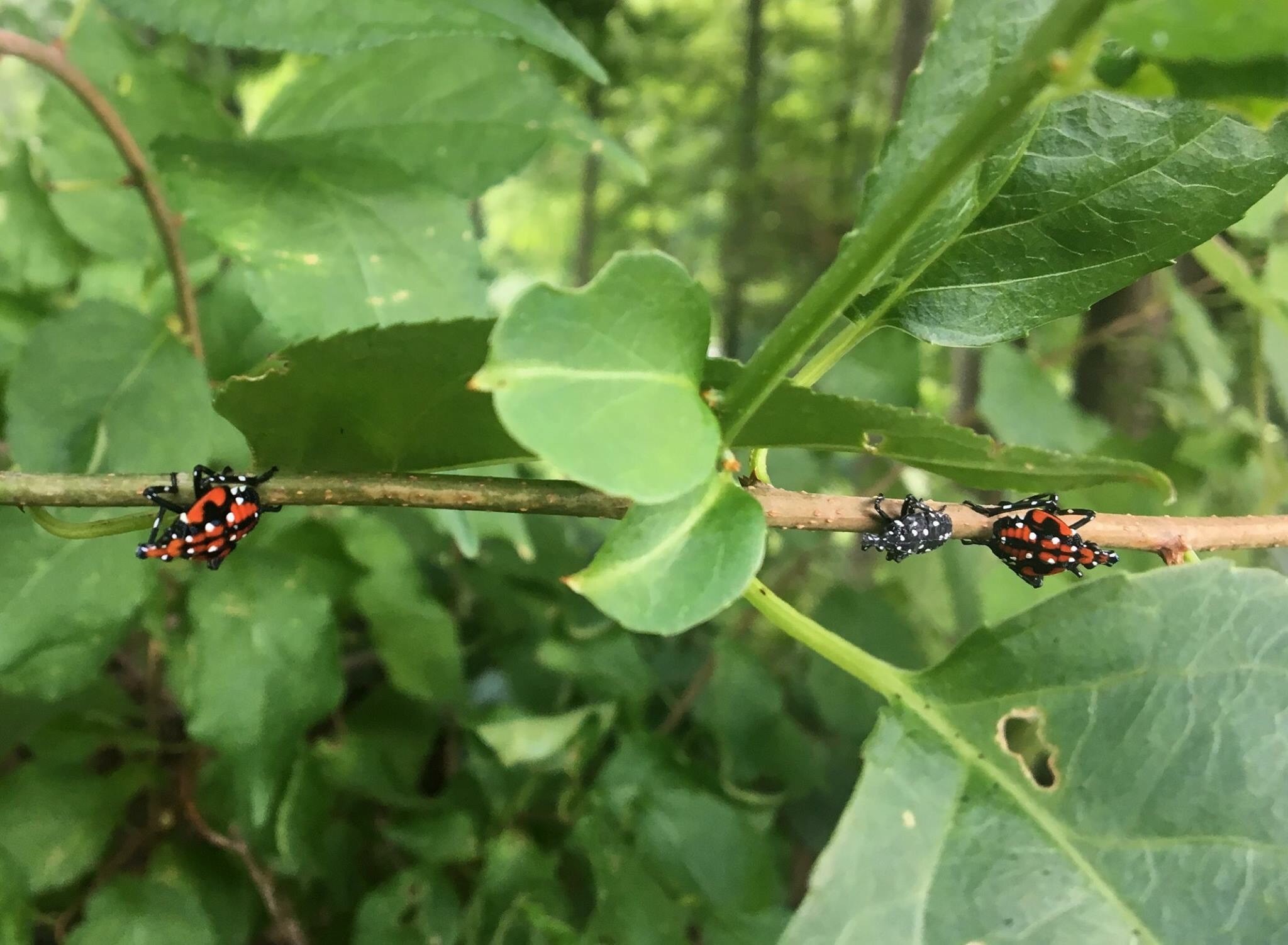 The immature nymph stage of the spotted lanternfly is quite pretty: a winged black insect with white spots. In its fourth stage, the lanternfly is red and black with white spots. Spotted lanternfly eggs are laid in masses that look like smooth smears of brown mud. If you're driving through an infested area, especially in the fall, check your car and outdoor gear for egg clusters before heading for a new area. This helps make sure travelers don't unwittingly spread spotted lanternflies by carrying them to new areas.
What to Do When You Find a Spotted Lanternfly
Report spotted lanternfly sightings to your State Department of Agriculture as soon as you find them, especially if you're in an area not thought to be infested.
Spotted lanternfly populations can be managed or reduced with the help of an arborist! Here's how to get rid of spotted lanternfly infestations through our multi-step process:
Tree removal – We recommend completely removing 90% of the trees of heaven growing on your property as a preventative measure when a spotted lanternfly has been detected in your area. We establish the remaining 10% as "trap trees" to lure the spotted lanternfly for mechanical and chemical control. Your plant health care specialist can help you identify all trees of heaven, select them for removal or treatment, and advise you on post-removal treatment applications to the stumps to ensure the cut trees of heaven do not resprout.
Infestation treatment – We treat trap trees with bark-applied systemic treatments to help reduce actively feeding insects in current and future seasons. We time our applications to match the spotted lanternfly life cycle, to eliminate the maximum number of these pests. We can also treat other infested trees and other plants to eliminate spotted lanternflies.
Egg removal. If populations are detected early, we also recommend an additional treatment to kill any egg masses on your trees, preventing another generation from hatching.
We use this multi-pronged approach to ensure our treatment is effective, long-lasting, and environmentally friendly. We can also use a spotted lanternfly spray on non-invasive trees, to control the pest population while removing as few native trees as possible.
Finding Spotted Lanternfly Treatment, Removal, and Prevention Near Me
If the spotted lanternfly has been detected in your area, or you believe you have found the nymphs or adults on your property, call your local Monster Tree Service at (888) 744-0155. We'll be there as soon as possible, working with you to design and execute a plan to protect your property from this harmful invasive species before it can spread.
Frequently Asked Questions
Where did the spotted lanternfly come from?
The spotted lanternfly, Lycorma delicatula, is a planthopper native to China and Vietnam that was first detected in Pennsylvania in 2014. However, it's believed to have been in the United States since 2012 and is also invasive to regions of Japan and Korea.
What trees are affected by spotted lanternfly infestations?
Spotted lanternflies will eat a range of trees, including woody, fruit, and ornamental species. Their preferred meal is the tree of heaven, which is an invasive species of tree originally from their native China. However, they will also snack on native species, like black walnut, sycamore, maple, oak, pine, willow, and a wide range of fruit trees.
What does a tree of heaven look like?
Not sure if your yard hosts this pest's favorite snack? Here's how to identify a tree of heaven:
45–70 feet tall when mature
Widespread crown
Long, compound leaves (11–30 leaflets per stem) similar to sumac
Leaves that are dark green on top and pale green below, turning yellow in fall
Leaves smell like rancid peanut butter when crushed
Small, 5-petal yellow-green flowers in the spring
Dry, papery fruits when young
What do spotted lanternflies eat, besides backyard trees?
Spotted lanternflies are such a big problem because they can and do eat various crops as well as popular residential trees. They'll also eat stone fruit trees, grapes, apple and almond trees, hops, and soybeans. While they only damage and kill grapes and tree of heaven, their wide-variety diet lets them spread more easily.
Where are spotted lanternflies in the US?
Spotted lanternflies are currently classified as an infestation in 14 US states, although they spread to new areas by people moving material infested with eggs. Individual sightings of spotted lanternflies have occurred in states that are not classified as having infestations. The states affected range from the Northeast, down the coast to North Carolina, and into the Midwest, as far as Michigan, Indiana, and Iowa.
Do spotted lanternflies bite?
No, spotted lanternflies are not known to bite humans or outdoor pets.
Related Services
Tree care doesn't just stop at removing spotted lanternflies. Check out our other services for the rest of your yard:
Get your trees checked regularly for signs of infestation or decline with a tree inspection from an expert arborist.
If part of your tree suffers from dieback, trust professional tree trimming to prune away dead and dying branches.
Concerned about other pests or illnesses? Schedule a visit from our insect and disease management team to find out exactly what's ailing your tree.
Helpful Resources