Tree Service in West Chester, Pa
Monster Tree Service is a professional tree service company that provides expert tree removal, tree pruning and related tree service to West Chester, PA and the surrounding area. Our customers represent our best advertising and have fueled the rapid growth and expansion of our business. We hire only the best certified and qualified staff, supported by the finest equipment and backed by efficient and safe field proven processes. The result… a premier tree care experience at an affordable price.
Tree Removal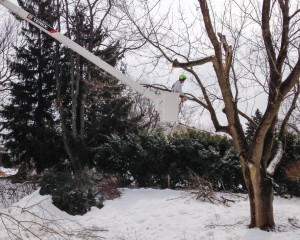 Trees are long-lived organisms that can grow to be incredibly large, and tree removal isn't a decision to be made impulsively. Property owners may decide to remove trees for landscaping reasons or to increase the value of their property. Other times, tree removal is due to a safety concern. Dead, dying, or structurally insecure trees are a ticking time bomb that can fall and cause property damage or personal injury. Unpredictable summer storms with heavy rain and wind or heavy winter snow and ice can damage trees that are not properly maintained. If you have trees on your property that you suspect could be hazardous, don't wait until a major weather event to find out for sure. West Chester residents call now to have your property evaluated by one of our professional arborists.
Tree Pruning
A vital part of tree maintenance is routine tree pruning. Monster Tree Service has set itself apart from other landscape companies by providing certified trained arborists on every crew who are expert at tree health and proper tree pruning techniques.
Regular tree maintenance will insure:
Clear roofs and buildings to improve appearance and eliminate debris on roofs and in gutters
Eliminate obstructed areas of sidewalks, yards, parking lots and streets
Remove dead wood, branches, and broken limbs to eliminate a safety hazard
Improve the inner scaffold of branches to promote sustained healthy tree growth
Eliminate weak V- crotches, crossing limbs, interfering twigs mitigate future safety risk and promote healthy growth
Minimize wind resistance and intensify absorption of light by proper pruning to thin the crown and remove sucker growth
Assist young trees to develop a strong structure and form
Let one of our professional arborist provide you a free plan to ensure safe, healthy attractive plant growth!