Tree Removal Service in Chapel Hill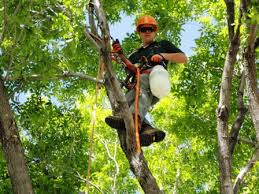 Monster Tree Service is a tree care and removal company that specializes in every landscaping service a property owner or manager could need. We have the skills and expertise to tackle everything from tree trimming, hazard assessments, cabling/bracing supports, removals, stump grindings and lot clearings. We can even prune your shrubbery and take care of your planting needs. Whether you have a small yard or a large complex interspersed by quads full of trees and hedges, we can bring your landscaping dreams to life and keep your greenery healthy and thriving.
Landscape Maintenance
At Monster Tree Service in Chapel Hill, NC, we know that the best way to nourish your yard is to provide regular maintenance. Our skilled arborists have years of training and experience to bolster their knowledge of the best times to perform the proper techniques, such as trimming, cabling, pest control and fertilization. What works for one tree can definitely harm the next, and one location's needs will never be identical to another's. We consider every element of the area, including the soil, hardscape and plant/tree layout, and we make suggestions that will improve the health of your foliage, increase its lifespan and stay within your budget.
In addition to our pruning and cabling services in Chapel Hill and the surrounding NC regions, we provide tree hazard assessments for homeowners and property managers concerned about the trees on their property. Our trained professionals have seen it all, from insect infestations and arboreal diseases to loose limbs and rotting trunks. One call to Monster Tree Service and we will be able to inspect the trees in question and tell you about the best solutions available. Sometimes all you will need is a simple trimming, other times we will need to implement an intensive treatment in an attempt to improve your tree's health. Unfortunately, there are also times that will require the complete removal of your tree.
For all of your tree service needs in Raleigh, NC, and the surrounding Research Triangle Area, call us today!