Tree Removal Service in Chanhassen
NEED TO FIND A TREE SERVICE YOU CAN TRUST?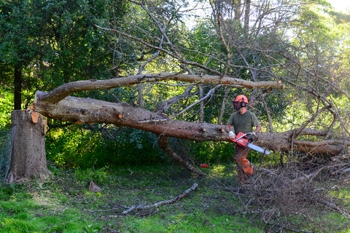 The process of finding a Tree Service you can trust to do quality work, on time, at an affordable price can be challenging when there is a seemingly endless supply of individuals and companies that offer "tree service." Monster Tree Service offers fast, efficient, and safe service with the most up to date equipment and safety procedures. Locally owned and operated, Monster Tree Service services the tree care needs of residents and business owners throughout Minneapolis and the Southern and Western suburbs. We are a professional tree care company intensely focused on customer satisfaction. Monster has a professional arborist on staff to help provide the most professional Tree Service possible.
Monster Tree Service provides a full range of tree care including tree trimming and pruning, stump grinding, tree planting, deadwooding, elevation, canopy thinning, land clearing and tree removal service in Chanhassen, MN. We are licensed and insured and will take all responsibility for our employees while on your property.
Tree Pruning
The arborists at Monster Tree Service are trained in proper pruning practices and know how to prune your tree to enhance its health and longevity. Every cut is made with the health of the tree in mind. Whether you need structural pruning for your young trees to help the tree develop strong branches and tree trunks, or maintenance pruning for mature trees which have outgrown their location or have grown into environmental hazards, we have the experience and expertise to provide the best service in Chanhassen.
Tree Removal
When you need safe tree removal in Chanhassen, MN, or tree removal in Bloomington, MN, Monster Tree Service is the one to call. We want our customers to know that tree removal becomes necessary when a tree is either dying, diseased, or dead, and leaving it will not only become an eyesore and reduce property value, but may also cause safety issues. Our highly skilled arborists can accomplish even the most difficult removals safely. People call Monster for tree removal in Chanhassen, MN and throughout Hennepin County because they know we will get the job done right with minimal impact to the surrounding landscape and structures.
Stump Grinding
When we provide tree removal services, we always make stump grinding an option. We will cut your tree as close to the ground as possible so that grinding may not be necessary, but if it is, our crews will do a thorough job of grinding and mounding the resulting grindings over the hole. Upon request we can also remove the grindings from the site and fill the hole with black dirt and grass seed.