Tree Service in Sharpsburg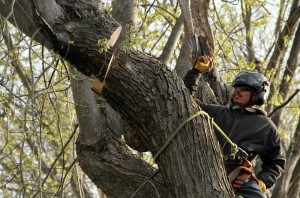 There are numerous advantages for trees on your property. The value adding resources and aesthetic appeal make your landscape stand out. Properly caring for your trees in Sharpsburg, GA will assist in protecting your investment. You need a professional tree service to ensure your trees and landscape do not become a liability.
We take pride in customer satisfaction and work with close attention to detail for each tree service in Palmetto, GA. Our certified and expert arborists will take care of routine maintenance for trimming the branches or pruning to maintain the growth and maturity of the tree. Plus, when there's an emergency, you can trust Monster Tree Service to take care of tree removal and stump removal in Sharpsburg, GA in order to keep your property safe.
Receive the best value through our expert diagnosis and fertilization. We know how to care for trees and leave your yard prospering for a unique and lively look.
Emergency Services
When your trees have become damaged or diseased from storms or lack of maintenance, feel at ease with the quick response times for efficient tree service in Sharpsburg, GA. Emergencies can happen at all hours of the day, from limbs becoming damaged to trees dying from unforeseen events.
It's important to restore the look of your property as quickly as possible. With the quality of our equipment and our experienced arborists, you can trust Monster Tree Service to be there for every tree service you need in Tyrone, GA. From complete tree removal to stump removal or trimming to retain the health of your trees, we have the equipment necessary for a speedy emergency service.
With our bucket trucks, cabling, cranes and skid steers, rigging equipment, and log trucks, we're equipped to handle your largest project.
Total Care Tree Service
We want to make sure you're completely satisfied with each project that is carried out. You all have different requirements, and we have the crew to get the job done safely and efficiently. Our arborists provide tips and advice to all clients for when they should conduct regular pruning or tree trimming in Peachtree City, GA.
Contact us today to inquire about a free estimate, and we'll travel to your home prepared to perform the best tree service in Sharpsburg, GA. We work diligently and have superior knowledge of all kinds of trees, so we guarantee you'll be pleased with our service.