Tree Service in Horsham
Monster Tree Service Delivers Professional, Affordable Tree Service in Horsham, PA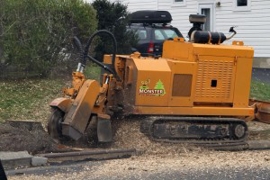 When your landscape includes damaged, diseased or overgrown trees, proper trimming and removal can restore the beauty and safety of your outdoor space.
What sets Monster Tree Service apart? Expertise. Our crews can correct, repair, prune or remove any tree, regardless of size, location or condition. And because we're experts who detect disease and damage with every tree service near North Wales, PA, we can distinguish between those that should be removed and those that need routine pruning. We won't recommend removing a tree unless it's necessary to address safety or homeowner concerns.
Your Source for Professional Tree Removal and Trimming
We're called Monster Tree Service for a reason! Our skilled teams can handle the removal and care of the most monstrous trees in Horsham, PA—even those in difficult to access locations. Our experienced crews use best practices for safely removing, trimming and caring for trees of every kind.
Our services include:
Emergency Tree Removal
Trimming/Pruning
Cabling and Bracing
Crown Reduction
Thinning
Stump Grinding and Stump Removal
Bucket Service
Lot Clearing
Brush Removal
Inspection
Trimming, Pruning and Expert Care
Monster Tree Service owns its equipment and trucks, so we always have the right tools to do the job with the highest quality results for each tree service near Langhorne, PA. Whether your home is on acres of ground or adjacent to your neighbors, we take great care to protect all property. We utilize heavy mats to prevent damage to lawns and soil. Depending on the location of a tree in relation to your home and other structures in Horsham, PA, we can climb, use lifts or other equipment.
Whether removing a damaged limb or a large specimen tree, we perform all of our pruning and services in the safest, most efficient way possible.
Affordable Tree Care
Whether you need immediate emergency tree removal or have damaged, diseased or overgrown trees on your Horsham, PA, property, call Monster Tree Service today for a free hazardous inspection, an estimate and a pledge to get the job done right.
Monster Tree Service provides a full range of tree trimming, removal and maintenance throughout the Horsham, PA region—delivered by experienced crews and directed by a certified arborists.