Tree Care and Removal in Oreland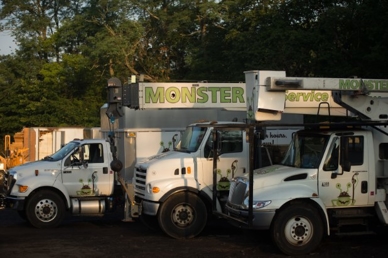 Monster Tree Service offers professional tree services throughout Oreland, Gwynedd, Glenside and Hatboro PA. We've served the region since 2008 and, as a firm led by certified arborists who evaluate tree health and provide all estimates, we are recognized as the area's tree care experts.
Because we have the equipment and expertise to perform tree services efficiently, our prices can't be beat. We will beat any competitor's estimate.
Tree Removal and More!
Monster Tree Service in Oreland PA has a reputation for safely removing large trees in challenging locations. When trees are damaged by insects, disease or structural problems, we assess and recommend the best solution. If removal is necessary, we have the tools and equipment to complete your project cost-effectively.
Our tree services in Oreland PA include maintenance such as trimming branches and seasonal pruning, to clearing lots, removing trees or thinning or raising crowns. Additionally, we offer cabling and bracing to stabilize large trees
Contact us and one of our certified arborists will provide a free hazardous tree evaluation with upfront pricing and no hidden fees!
Our crews adapt the process to the project. Whether crews climb trees or use our bucket trucks or cranes, we have the know-how and the equipment to do the job right. Our team takes safety seriously, and protects your property as the heavy work of tree removal takes place.
In addition, we remove tree stumps and can provide chips or firewood logs, if requested. We can also replant a tree of similar size if desired.
Emergency Tree Service around Oreland, PA
Led by our arborists, our tree services in Oreland PA include emergency tree removal and emergency tree care. Because our arborists diagnose and solve problems of all tree species, our clients get expert advice on trees that appear diseased or in danger of falling. For trees damaged by storms or by insects. Emergency care may include tree removal, cutting, and or removing branches. For trees too close to electrical lines, we can perform crown reduction or strategically remove branches to reduce the likelihood of accidents.
Additionally, we are available to provide emergency tree removal for fallen trees or for trees which pose an immediate threat. We provide quick response within hours of your call.
For professional tree service around Oreland, PA, Monster Tree Service is your best choice.