Tree Services in Jenkintown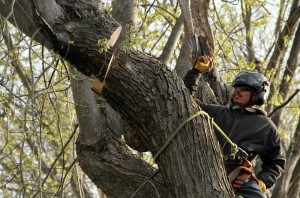 Throughout the Delaware Valley, Monster Tree Service delivers the most professional and experienced tree service. Whether you need tree service in Jenkintown PA, Hatboro, Glenside, Oreland and or any of the surrounding regions, Monster Tree Service has you covered..
As a company led by certified arborists specially trained in tree health, Monster Tree Service is a company of tree experts. Our highly trained crews are tree industry veterans, and have the knowledge, skills and equipment to do a professional job on projects of all sizes.
In fact, we've built our reputation as tree care professionals by working on the most challenging projects—trimming or removing large trees in difficult to reach areas, caring for damaged trees of any size in any location. That's how we got our name!
Fully licensed, insured and professional, we possess the professional credentials and expertise to protect your property and perform the highest quality tree work on each and every job.
Full Service Tree Care In Jenkintown, PA
Monster Tree Service crews use tree industry best practices for all work and handle every type of project. From routine tree maintenance to emergency tree removal, we have the know-how and the equipment to get the job done. This includes pruning and deadwooding all tree species and caring for mature trees, with techniques including cabling and bracing, crown thinning and elevating. We also grind stumps and plant specimen trees where trees have been removed.
Affordable Tree Experts, at Your Service
Monster Tree Service's certified arborists assess and estimate each and every job. Because we have the tools, equipment and expertise to solve tree problems more efficiently than other tree companies, our prices can't be beat.
In fact, we guarantee that we will beat any competitor estimate for the same project.
Before providing an estimate, however, our arborists evaluate tree health. For trees that are diseased, infested, or which are dangerously damaged or unstable, tree removal may be recommended. If a tree is otherwise healthy, pruning or reshaping may improve appearance and stability, and eliminate the need to cut the tree down. As a company that respects environment, we will always advise you on the most appropriate tree care. We do what's best for our clients and for their trees.
For truly professional expertise, trust Monster Tree Service in Jenkintown, PA. Call us for an estimate and free tree evaluation.