Tree Service in Langhorne
Tree Care You Can Trust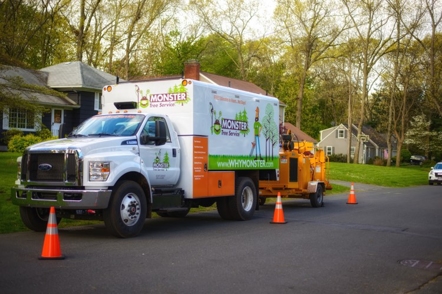 Is your tree sick or dying? Does it need to be removed or does it need some TLC? Trust the team at Monster Tree Service to help.
Our teams, led by certified arborists, have performed outstanding service in Langhorne, PA since 2008.
Our experience is second to none.
Our arborists are experts who understand everything there is to know about caring for all species and sizes of trees in any condition or location—even precarious ones. Whether it's a huge oak that has grown too close to power lines or a maple that is threatening your neighbor's house, Monster Tree Service provides expert care with the knowledge and skills to handle the most challenging of projects and tree services around Flourtown, PA.
Our experience caring for all sizes and species of trees, along with our extensive capabilities and equipment, make us the company to call for expert care for your property.
Complete Services—Led by Professionals
Monster Tree Service offers extensive capabilities and provides comprehensive tree service in Langhorne PA to homeowners and businesses. In fact, we have performed service on more than ten thousand trees in Langhorne PA. Our scope of service is unmatched, because we have the resources, crews and expertise to provide the highest level of care for trees of any age, size, or condition.
Our comprehensive capabilities include:
Tree removal
Pruning
Trimming
Elevating
Stump removal
Bracing
Land clearing
Cabling
Emergency service
Thinning
Hazardous tree assessment
Why Pick Monster Tree Service?
PRICE
Out of all the companies in Langhorne, PA, Monster Tree Service provides professional work at prices that can't be beat. Because we own our own equipment, including bucket trucks, cranes and other heavy equipment, we are able to offer more efficient pricing. Most companies that offer tree service in Jenkintown, PA rent their equipment, which raises their costs.
RESPONSIVE CUSTOMER SERVICE
We also pride ourselves on customer service. Being responsive is important, so we provide estimates in hours, not days! And, all our work is performed under the guidance of certified arborists who are trained professionals.
​EXPERT TREE CARE
Our certified arborists are experts whose main concern is improving the health of your trees and protecting your investment. We provide the tree service in Gwynedd, PA, that you've come to expect. We take pride in helping your property become an asset that makes your home or property stand out, rather than a liability filled with dead limbs and hanging branches.
​SAFE REMOVAL & TRIMMING
We take safety seriously. All of our crews are highly trained in safety procedures and use best practices to ensure safe use of equipment and safe removal of trees, branches and stumps.
Contact us today for a free evaluation and estimate!