TREE SERVICE IN WESTLAKE, OHIO
Tree Removal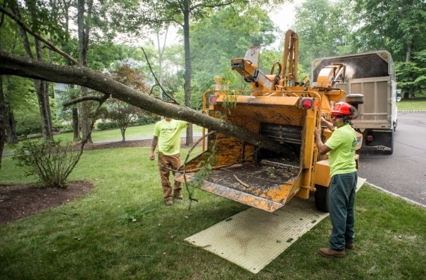 At Monster Tree Service of Cleveland, we professionally maintain and remove trees of all sizes and types. We work in and around the Westlake, Ohio area, providing expert climbers and cutting-edge tree maintenance equipment. We provide tree trimming and tree removal jobs on trees of all sizes with ease.
Elevating
Elevating a tree includes tree trimming the lower limbs to provide clearance below the tree's site line. An elevated tree looks shapelier and opens the property visually.
Stump Grinding
When a tree falls from natural causes or needs removal, the stump that remains behind can be unsightly and blocks the flow of the lawn. Grinding the stump will remove the unsightly leftovers below the point of the ground level. The soft dirt and wood shavings left behind creates the perfect rich soil for a new tree, fresh grass or a healthy garden.
Crane Service
The beautiful homes in Westlake, Ohio often have large, mature landscaping that over-shadow structures and property lines. When the work area is tight, or the tree is large, our cranes can work miracles. Cranes allow for tree trimming and removals to be done faster and with less impact on turf.
Deadwood
Even healthy trees will have branches that die and require tree service. Dead branches can weigh down a tree, pull resources from good branches and reduce the aesthetic appearance. Monster Tree Service's dead-wooding service allows our arborists to trim dead branches effectively.
Cabling and Bracing
In Westlake, Ohio, the winters can be cold, and the storms can roll in quickly and violently. Trees often take the brunt of these storms with split crotches and damaged trunks. When this happens to a valued tree, Monster Tree Service can strategically add cabling and braces. This tree service holds the damaged area in place so the tree can heal and continue to grow.
Hazardous Tree Assessment
Monster Tree Service also provides thorough routine inspections, working carefully to identify both common and uncommon tree issues. Unkempt trees pose a great threat to everyone and everything nearby, especially in bad weather like severe wind, snow, or heavy thunderstorms. Fallen trees and branches can injure people and damage nearby cables, houses, vehicles and more.
Our experts work to ensure that your trees are not growing against your residence or through utility wires of any kind. We'll also identify where your trees pose threats to other structures around your Westlake, Ohio residence.