TREE SERVICE IN ROCKY RIVER, OHIO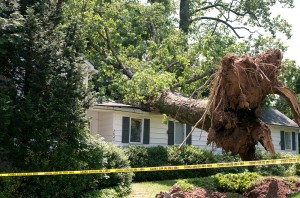 When trees are dead or dying, they pose a significant hazard to your home, property, and personal health. In addition, homeowners and business managers have to consider the dire possibility that a passer-by or employee could sustain injuries from a falling branch. Whether your trees are noticeably deteriorating, a passing storm has wreaked havoc on your property, or you just want to make sure that your trees are healthy and thriving, Monster Tree Service can handle all of your tree trimming, removal and inspection needs in Rocky River, Ohio.
Tree Trimming
Trees can make any property beautiful, but they must be maintained. Tree services such as pruning are necessary when there are diseased or storm-damaged branches, the tree has gotten too tall or needs to be thinned to promote new growth, or when the owner wants to shape the tree for design purposes.
Tree Removal
For those times when tree trimming is not enough to save your foliage, Monster Tree Service can remove your tree safely and efficiently with our highly trained staff and top-of-the-line equipment. Our tree services in Rocky River, Ohio, also include grinding the stump below ground level so that you can enhance the area by replanting grass, trees, shrubs or flowers.
Our certified arborists in Rocky River, Ohio, can provide commercial and residential tree trimming services to eliminate hazards, protect your property and enhance the appearance of your trees. We specialize in deadwooding procedures, as well as pruning techniques for both trees and shrubs.